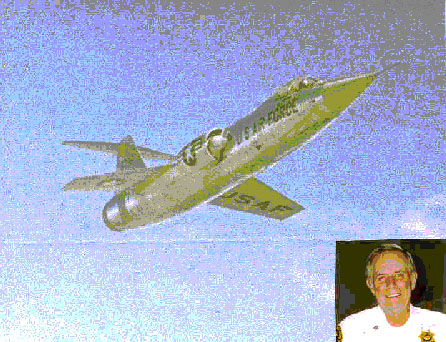 Colonel Bryniarski is a highly decorated Command Pilot with more than 5300 flying hours. His work on pioneering defense aircraft helped to propel the U.S. into 21st century combat readiness.
He joined the Air Force in 1951 after graduating from Lehigh University AFROTC.
Originally assigned to Wright-Patterson AFB, OH he was accepted into Pilot Training in 1952. He completed Primary training at Malden AB, MO (T-6G), Basic at San Angelo AFB, TX (T-6), and Advanced at Webb AFB, TX (T-33).
After earning his pilot wings in 1953, Col. Bryniarski was assigned to the 22nd Fighter Day Squadron, Bitburg AB, Germany (F-86, L-20, F-100F). Four years later, he became a Flight Test Maintenance Officer at Sacramento Air Materiel Area, CA (F-86F, F-86D, F-100, F-104A, T-33, C-47, C-54. L-20, YC-121, B-25, B-26, B-66, C-119).
After earning an MS Degree in Logistics Management at AFIT in 1962, he was assigned to Bolling AFB, DC, 1963, as Maintenance Systems Design Office (T-33). During 1967-68 he was part of the 14th Air Command Wing, Vietnam (Helio Courier, C-47).
He was then transferred to HQ USAF/DCS Logistics (U-3A, T-39) for the next three years. Colonel Bryniarski completed his last 10 years of duty with tours at McClellan AFB, CA, Airsouth, Naples, Italy, and Wright-Patterson AFB, OH (C-5).
He retired from the Air Force in 1981 and began working for Boeing Aircraft in Wichita, KS. In 1983, he became a Program Manager on the B-2 Stealth Bomber for Northrop, in Pico Rivera, CA. Col. Bryniarski fully retired in 1995.
---
Legion of Merit, with one oak leaf cluster

Distinguished Flying Cross

Defense Meritorious Service Medal

Meritorious Service Medal

Air Medal with four oak leaf clusters

Air Force Commendation Medal

Air Force Presidential Unit Citation

Air Force Outstanding Unit Award with V device

Air Force Organizational Excellence Award with one oak leaf cluster

Army Meritorious Unit Citation


National Defense Service Medal

Vietnam Service Medal with four Bronze service stars

Air Force Longevity Service Ribbon with one silver oak leaf cluster & one bronze oak leaf cluster

Small Arms Expert Marksmanship Ribbon

Vietnam Cross of Gallantry with Palm

Republic of Vietnam Campaign Medal