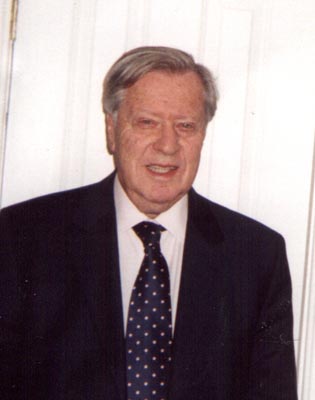 First Lieutenant Saul Ferdman is a World War II veteran who engaged in numerous unique combat missions. He is also a veteran of Grumman, where he worked on a variety of key projects throughout his four-decade career with the company.
Lt. Ferdman is a New York City native and graduate of the prestigious Stuyvesant High School. He then attended the Guggenheim School of Aeronautics at New York University.
Lt. Ferdman enlisted in the U.S. Army Air Corp in the fall of 1942 and reported for duty in February, 1943. He trained at several bases, including Atlantic City, Lansing, MI, San Antonio, TX, Fort Stockton, and Harlingen, TX. After navigator training in Monroe, LA, he received his wings in July, 1944. His commanding officer, George Gooding, led a crew of ten who flew in a B-24 heavy bomber. They arrived in Great Britain and were part of the 406th Bombardment Squadron of the Eight Air Force located in Cheddington.
Lt. Ferdman's squad was unique in that all of the crew's missions were flown at night and every airplane went out alone. He was trained as a navigator/bombardier and used the Gee Box. His tour included 42 missions to mostly front line targets. They dropped counterfeit currency, counterfeit ration books, surrender leaflets, and an occasional agent
Lt. Ferdman's crew hit Remagen on the night that this only bridge across the Rhine was captured— enabling the allies to press into Germany. After completing the tour in Europe, Lt. Ferdman was transferred to the Pacific and flew home American POWs from the war's early days. He was discharged on November 10th, 1945.
After leaving the military, Lt. Ferdman obtained Bachelor's and Master's degrees in Aeronautical Engineering. The married father of four was employed by Grumman for 38 years.
---
Awards & Decorations
Air Medal with 6 Oak Leaf Clusters


WW II Battle of the Bulge Commemorative Medal

Rhineland Commemorative Medal


World War II Victory Commemorative Medal
---