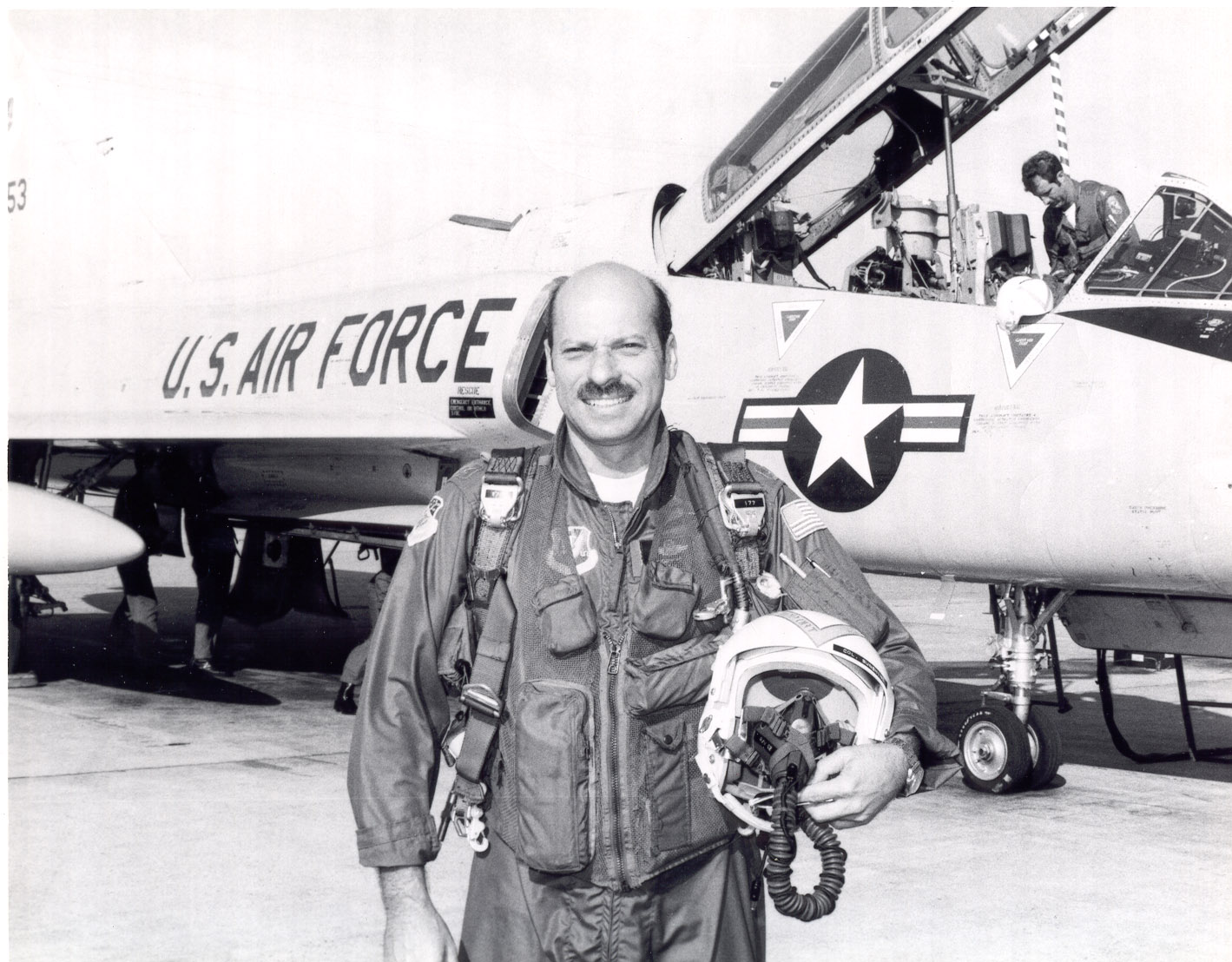 Colonel Gabriel Sunshine is a dedicated and decorated Command Pilot with over 5000 flying hours. He also holds a doctoral degree and is a professor of physics.
Colonel Sunshine entered the Air Force in 1956 as a graduate of Brooklyn College AFROTC. After Primary pilot training at Stallings AB, NC (T-34, T-28) and Basic at Bryan AFB, TX (T-33), he earned his pilot wings in May 1957.
He was then assigned to Moody AFB, GA for Advanced Pilot Training (Fighter-Interceptor / F-86). In December 1957, he was assigned to the 87th Fighter-Interceptor Squadron (ADC) at Lockbourne AFB, OH. He left active duty in 1959 to continue graduate studies in physics at New York University.
After a brief tour of duty with the Air National Guard at Westchester County Airport (T-33 and F-86), he joined the 335th Troop Carrier Squadron of the 514th Troop Carrier Wing at Mitchel AFB, NY (C-119). This unit moved to McGuire AFB, NJ, in 1961 and, in 1968, became the 335th Military Airlift Squadron of the 514th Military Airlift Wing (Associate) and transitioned into the C-141.
He was Operations Officer of the 335th from 1971 to 1974 and Commander of the 702nd Military Airlift Squadron from 1974 to 1977. He was then appointed to the new position of Vice Commander of the 514th Military Airlift Wing (Associate). In 1979, he was assigned to the 21st Air Division/NORAD Region (F-106) at Hancock Field in Syracuse, New York, where he was appointed Chief of Staff by the Commander. As an additional duty, Colonel Sunshine was an Air Force Academy Liaison Officer from 1974 to 1981.
Colonel Sunshine retired from the Air Force in 1986; he is a Command Pilot with more than 5000 flying hours. He earned his M.S. (1963) and Ph.D. (1965) in Physics from New York University. He completed the Industrial College of the Armed Forces in 1973 and the Airpower Seminar (1976), the Senior Officer PME Course (1980), and the Combined Air Warfare Course (1980) at the Air War College. Colonel Sunshine also holds an FAA Commercial Pilot certificate with single-engine, multi-engine and instrument ratings, and has about 1000 civilian flying hours, mostly in light twin-engine aircraft. He flies twin-engine aircraft on a weekly basis from Republic Airport on Long Island. He is presently Professor of Physics at New York Institute of Technology in Old Westbury, NY.
---
Awards & Decorations
Meritorious Service Medal
Air Force Outstanding Unit Award Ribbon with two oak leaf clusters
Air Force Combat Readiness Medal with four oak leaf clusters
National Defense Service Medal
Armed Forces Expeditionary Medal
Vietnam Service Medal with two bronze stars


Humanitarian Service Medal

Air Force Longevity Service Award Ribbon with five oak leaf clusters

Air Force Small Arms Expert Marksmanship Ribbon

Vietnam Cross of Gallantry with Palm

Republic of Vietnam Campaign Medal

He is also the recipient of the FAA Wright Brothers Master Pilot Award (2010)
---