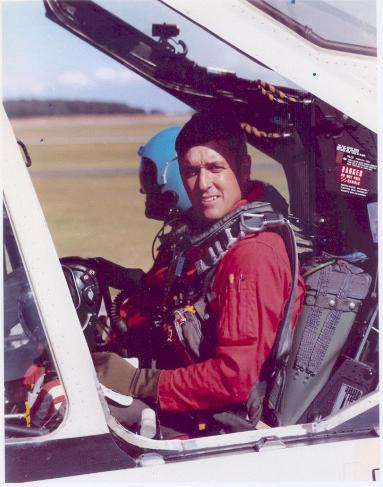 Commander Jim Roth is a highly experienced 20-year naval combat pilot and aviation industry test pilot, with over 5800 flight hours and more than 300 carrier landings.
He was raised in Estelline, SD and along with his brother, Bill, attended the United States Naval Academy.
Jim left the Academy to attend South Dakota State University in Brookings, and graduated in 1955. Since he served in the Navy Reserve while studying at SDSU, he was able to graduate from Reserve Officer Candidate School, Newport, RI, in the same year.
He then entered Navy pilot training in Pensacola, FL, with jet training in Corpus Christi, TX (SNJ, T-28B, TV-2, F-9F-2), receiving his Wings of Gold in 1957. After two years as a flight instructor in Pensacola (SNJ, T-28B), Jim reported to his first tactical squadron in 1959. There he flew A-4 Skyhawks with Attack Squadron Thirty-Six at NAS Cecil Field, Jacksonville, FL. The better part of the next two years were spent on board the USS Saratoga, CVA-60, as a special weapons delivery pilot, standing nuclear watch in the Mediterranean Sea. From 1961 to 1963, he was attached to Attack Squadron Sixty-Four (A-4), NAS Oceana, VA, operating from the USS Wasp, CVA-18, in the North Atlantic.
In 1963, Jim joined Attack Squadron Forty-Two for shore duty at NAS Oceana, VA, where he was an instructor in the first Grumman A-6 Intruder squadron (also A-1H, A-1E, T-28B). VA-42 was assigned to train new flight crews in the Intruder, including the West Coast Navy and Cherry Point Marine Corps Replacement Training squadrons. He served with Attack Squadron Eighty-Five on the USS Kitty Hawk (A-6) in the Vietnam theater before being assigned to the Naval Air Rework Facility, NAS Norfolk, VA, as Chief Production Test Pilot (A-6).
In 1969, he was sent to Naval Plant Representative, Grumman Bethpage, NY, for duty as the Navy Representative-in-Charge, Grumman Calverton operations and as the Chief Navy Production Test Pilot. There, he flew 2,000 production test flights in A-6 Intruders, EA-6B Prowlers, and F-14 Tomcats. In 1975, Commander Roth completed his twenty-year flying career and service in the U. S. Navy. He amassed 2,800 flight hours in the Intruder, and an accident-free flying career of 5,800 hours and 330 carrier-arrested landings.
In 1976, Commander Roth responded to a request to take charge of the Navy Junior ROTC program at Riverhead High School, NY. He retired in 1996, after serving in the community for twenty years as Senior Naval Science Instructor, in addition to his twenty-year flying career in the U. S. Navy.
---
Awards & Decorations
Air Medal with bronze star

National Defense service medal with bronze star

Navy Unit Commendation Ribbon with bronze star

Vietnam Service Medal with bronze star

Vietnam Cross of Gallantry with Palm

Republic of Vietnam Campaign Medal
---