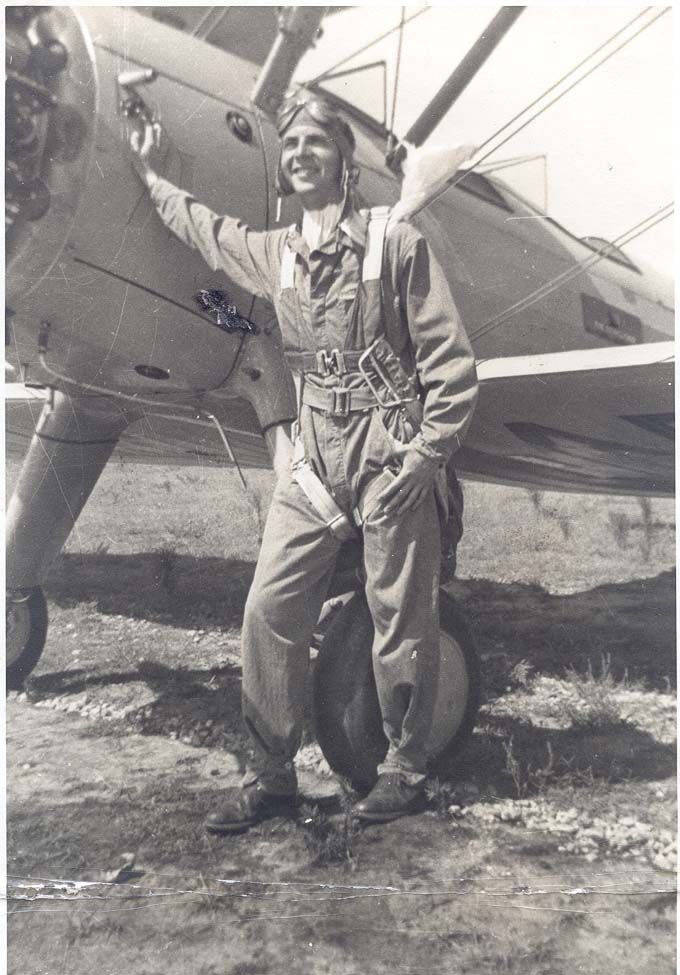 Veteran combat pilot, World War II and Korean conflict Commander—and model airplane buff— John Steele is a Command Pilot with 6000+ flight hours.
Winning first prize in a model airplane contest in 1938 launched Colonel Steele's flying career. The prize was a pilot training course in a J-2 Cub at McCormick Field, Staten Island, NY. Eventually, he earned his private pilot license.
He entered the Army Air Force In April 1941as a Flying Cadet. After completing Primary flight training at Jackson, MS (Stearman PT-17), Basic at Gunter Field, AL (Vultee Valiant BT-13), and Advanced at Barksdale Field, LA (Beechcraft AT-7, Cessna AT-8, Martin B-10, Douglas B-18, Lockheed A-28), he received his pilot wings and, on his 21st birthday—December 7,1941— was commissioned a 2nd Lieutenant.
While serving as a B-24 Instructor Pilot at Davis Monthan AB, AZ in 1942, he was named Commander of the 716th Bombardment Squadron and was soon deployed to the 15th Air Force in Italy. He flew 50 combat missions over Germany, Austria, Italy, Romania, Bulgaria, Yugoslavia, Poland and Hungary including six missions to the Ploesti oil refineries—one of the most heavily defended targets of World War II.
Colonel Steele completed the Command and General Staff School at Fort Leavenworth, KS in 1945. He joined the New York Air National Guard the following year and was appointed Commander of the 106th Bomb Group (B-26) at Floyd Bennett Field, NY. During the Korean conflict, he was Deputy Commander of the 106th Bomb Wing (B-29) at March AFB, CA. He later transferred to the Fifth Air Force at Yokota AB, Japan, where he was Commander of an Air Refueling squadron (KB-29 and KB-50) which pioneered the Probe and Drogue refueling system, now used by all services.
Colonel Steele retired in 1961; he is a Command Pilot with more than 6000 flying hours. He then joined the Federal Aviation Administration as an Air Carrier Operations Inspector and Airman Certification Specialist. He joined Pan American World Airways in 1966 as a Flight Instructor and check pilot. He retired from Pan Am in 1981 as a Boeing 747 Check Captain with 26,000 flying hours. Presently, he is a consultant for the Pan American International Flight Academy in Miami, FL, which trains Boeing 747 pilots and flight engineers of U. S. and foreign airlines and military forces.
---
Awards & Decorations
Distinguished Flying Cross

Air Medal with four oak leaf clusters

Distinguished Unit Citation with oak leaf cluster

American Defense Service Medal


American Campaign Medal


European-African-Middle East Campaign Medal


World War II Victory Medal


Korean Service Medal

---