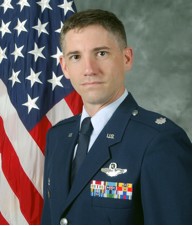 Lt. Colonel Flint is a decorated pilot currently serving as Commander, 39th Airlift Squadron, Dyess Air Force Base, Texas.
The Burlington, VT native and Georgetown University graduate was commissioned through the Reserve Officers Training Corps.
Lt. Col. Flint attended Undergraduate Pilot Training at Williams AFB, Arizona and earned his wings in 1990. He was assigned to the 96th Flying Training Squadron as a T-37 Primary Jet Training Instructor. While at Williams, he served in a variety of jobs and eventually became the Squadron Chief of Safety.
In August 1992, Lt. Col. Flint reported to the 50th Airlift Squadron at Little Rock AFB, Arkansas, where he became a C-130E Aircraft Commander. While at the 50th, he became one of the first four aircraft commanders to transition to the C-130H3, and participated in Operation Uphold Democracy, which restored Haiti's elected president to power. He attended instructor training in 1996.
Following this initial C-130 assignment, Lt. Col. Flint was reassigned to the 36th Airlift Squadron at Yokota AB, Japan. From 1996 to 1999, he flew with the "Eagle Airlifters" as an instructor and evaluator pilot. He participated in such joint and combined exercises as Foal Eagle, Cobra Gold, and Tandem Thrust. He eventually became the Chief C-130 Pilot for the 374th Operations Group Standardization and Evaluation Office.
In 1999, Lt. Col. Flint was reassigned to the Office of the Inspector General, Headquarters, Pacific Air Forces, Hickam AFB, Hawaii. He served there as the Chief of Airlift Inspections. Lt. Col. Flint participated in over 20 inspections while assigned to the IG, and was the project officer for the first combined Operations Readiness Inspection of the 3d Wing at Elmendorf AFB, Alaska, and the 347th Fighter Wing at Eielson AFB, Alaska. He was twice named the PACAF winner of the Lt. Gen. Howard W. Leaf Award.
He was selected in September 2001, as the Deputy Director of the PACAF Commander's Action Group. In this capacity, Lt. Col. Flint was responsible for preparing the PACAF Commander for engagements throughout the world. Just after the attacks on September 11, 2001, Lt Col Flint was selected to act as the Director of Operations in the Pacific Operations Support Center, where he implemented an innovative Web-based product to assign tasks and ensure completion according to higher headquarters timelines.
Lt. Col. Flint attended Air Command and Staff College at Maxwell AFB, Alabama from August 2002 to June 2003. While at ACSC, he was named the Team Chief for the 22d Annual Gathering of Eagles. This program is designed to bring aviation pioneers and living legends to the college to give the students a first-hand account of the events that shaped Air Force and United States history.
Lt. Col. Flint was assigned to Pope AFB, North Carolina in July 2003. He deployed three times with the "Blackcats" to Southwest Asia supporting Operations Iraqi Freedom and Enduring Freedom—twice as the Operations Officer of the 745th Expeditionary Operations Squadron.
---
Awards & Decorations
Air Force Aerial Achievement Medal

Meritorious Service Medal

Air Force Commendation Medal with three oak leaf clusters
---