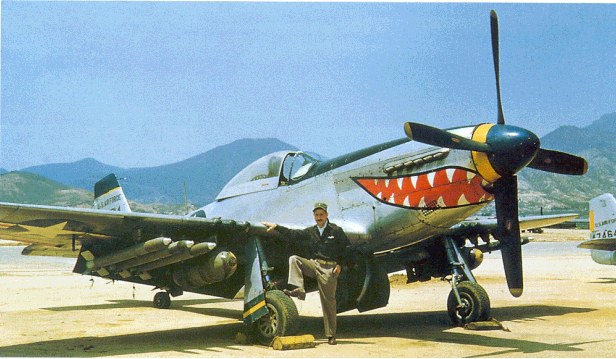 Major Mario Prevosti is a decorated, experienced, and distinguished veteran of two wars and hundreds of successful missions. He is a pilot with almost 2000 flying hours.
Major Prevosti entered the Army Air Force in February 1943 as an Aviation Cadet. After completing Primary flight training in Americus, GA (Stearman PT-17), Basic in Greenwood, MS (Vultee Valiant BT-13), and Advanced in Montgomery, AL (T-6 Texan) he received his pilot wings and was commissioned a Flight Officer in May 1944.
He was then assigned to fighter training in Fort Myers, FL (P-40) and shipped to Europe in the winter of 1944. After spending some time in Paris, Major Prevosti was assigned to the 435th Fighter Squadron of the 479th Fighter Group at Wattisham Air Base, UK (P-51D). The Group's mission was to escort the B-24 bombers of the 2nd Air Division of the 8th Air Force on their bombing missions over Germany.
The Group's fighters also occasionally met and escorted bombers of the 15th Air Force flying north from Italy. At other times, they were given missions to attack ground targets of opportunity. By the end of World War II, Major Prevosti had flown 18 combat missions in the P-51D. In late 1945, he was assigned to the 9th Air Force in Erlangen, Germany and in September, he returned to the United States to serve in the Air Materiel Command in Middletown, PA (T-6).
In October 1950, Major Prevosti was assigned to Nellis Air Force Base, NV for advanced P-51 training. The following February, he joined the 12th Fighter Bomber Squadron (P-51D) of the 18th Fighter Bomber Wing of the 5th Air Force at Chinhae Air Base, Korea. There, he was reunited with two pilots from the 479th Fighter Group and completed 100 combat missions against various types of ground targets.
Major Prevosti returned to the United States in 1951 and served as the first commander of the 73rd Air Base Group in Duluth, MN. From 1954 to 1957, he was a Recruiting Officer in northeastern Pennsylvania and then spent a year as Administrative Air Inspector at the 17th Air Force in Tripoli, Libya. From 1958 to 1961, he was Adjutant of the USAF Military Assistance Advisory Group serving the German Air Force in Bonn. He was then assigned to Air Defense Command Headquarters in Colorado Springs where he was appointed chief of the Printing and Publishing Division.
Major Prevosti retired from the Air Force in 1964. He then started and operated an Employment Agency in Staten Island, NY until he fully retired in 1993.
---
Awards & Decorations
Distinguished Flying Cross

Air Medal with four oak leaf clusters

Air Force Commendation Medal with oak leaf cluster

Distinguished Unit Citation

Air Force Outstanding Unit Award

European-African-Middle East Campaign Medal with three bronze stars

World War II Victory Medal

National Defense Service Medal

Korean Service Medal with three Service Stars

United Nations Service Medal

Republic of Korea Presidential Unit Citation
---