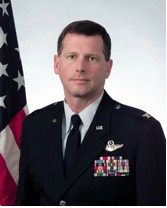 Colonel Michael F. Canders is a Command Pilot with more than 3500 flying hours. He currently serves as Wing Commander, 106th Rescue Wing, Gabreski Airport, New York, and flies both the HH60 Rescue Helicopter and HC130 Rescue Hercules.
Col. Canders graduated from the U.S. Naval Academy and was designated a Naval Aviator and Navy Helicopter Pilot at Pensacola, Florida. He served as a helicopter aircraft commander of SH-3H Sea Kings flying both anti-submarine warfare and search and rescue missions. He was also assigned as the Squadron's Quality Assurance Officer in the Maintenance Department. He deployed to the Persian Gulf aboard the aircraft carrier USS Constellation during the Iranian Hostage Crisis of 1980 and was awarded the Navy Expeditionary Medal. He later worked at the U.S. Navy's Naval Air Systems Command as a project officer for the Light Airborne Multi-Purpose System (LAMPS) MK III, an eight billion dollar new acquisition program.
Col. Canders deployed to the Persian Gulf in 1993 and served in the 4404th Composite Wing, the multi-national task force responsible for enforcement of the Southern "NO FLY" zone in Iraq. He flew numerous combat search and rescue support missions in the Gulf Region and was awarded the Aerial Achievement Medal. He also served in Incirlik, Turkey as part of the First Rescue Wing in 1996 in support of Operation Provide Comfort and enforcement of the Northern "NO FLY" zone. He deployed to Turkey again in 2000 as part of Operation Northern Watch and served as the Detachment Commander of the Forward Operating Location in Eastern Turkey. He briefly deployed to Iraq in 2003.
He has participated in a number of civil search and rescue missions. He and his crew were awarded Air Medals for a nighttime hoist and medevac of a critically injured foreign national from a vessel in the North Atlantic. He also led a rescue and recovery team after Katrina, saving 161 lives in the city of New Orleans.
In addition to his Bachelor of Science degree from the U. S. Naval Academy, he earned his M.B.A. in Finance at Hofstra University, NY, and a Ph.D. in Applied Management and Decision Sciences at Walden University, MN. He also completed Defense Systems Management College at Fort Belvoir, VA, and Air Command and Staff College and Air War College through correspondence at Maxwell AFB, AL.
---
Awards & Decorations
Air Force Commendation Medal with 5 oak leaf clusters


Air Force Achievement Medal


Navy Expeditionary Medal

Air Medal


Southwest Asia Service Medal


Kuwait Liberation Medal
---