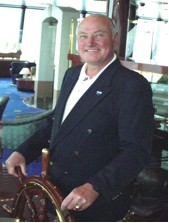 Jack O'Donnell is a retired Navy Commander who specialized in tracking Soviet submarines while on active duty. He has more than 3600 flight hours plus about 200 hours private pilot time.
Commander O'Donnell went on active duty in February, 1965, after graduating from St. Johns University, NY, where he earned a BS in Management. His first assignment was in the Navy School of Pre-Flight in Pensacola, FL. After four months as an Aviation Officer Candidate, he received his commission as an Ensign, USNR, in June, 1965.
Training as a Naval Flight Officer continued in Pensacola at NAS Forest Sherman Field. After approximately six months, he selected navigation training and was ordered to NAS Corpus Christi, TX. for advanced and celestial navigation schooling. In April, 1966, he received his Naval Flight Officer wings and proceeded to VP 30 in Patuxent River, MD, for training as a Tactical Coordinator in the P-3 Orion.
In November 1966, Commander O'Donnell reported to VP-10 in Brunswick, ME. He served as a Tactical Coordinator until Sept, 1969 when his active duty obligation was completed. During his three years in P-3s, he flew extensively in the Atlantic, Mediterranean, and Caribbean, hunting for Soviet submarines. From Thule, Greenland, to Athens, Greece, and from Puerto Rico to Bodo, Norway, he saw a lot of ocean. In 1967, his squadron received the Meritorious Unit Commendation Ribbon for being the first Patrol Squadron to actively track a Soviet nuclear submarine east of Bermuda during its entire 60 day on-station time. His crew made the initial contact while flying out of Newfoundland.
In November 1969, Commander O'Donnell joined the Shell Oil Co. as a credit analyst, and the Navy Reserve at Floyd Bennett Field. The job at Shell lasted only 14 months but his commitment to the reserves stretched another 19 years. In 1971, he was hired by Proctor and Gamble where he worked in sales until June, 1982, then switched to the Dr. Pepper Co. from which he retired in 2004.
The Navy formed the first P-3 reserve squadron, VP-90, at NAS Patuxent River in August 1970, and for three and one half years he joined a group of other New York metropolitan area reservists who were flown to weekend drills from Westchester County Airport. In 1974, he transferred to NAS Willow Grove, PA, when two existing P-2V squadrons were transitioned to P-3s. He was assigned to VP-64 as NATOPS Training Officer. He attained the rank of Commander in 1984 and continued to fly in P-3Bs (he was Squadron Training Officer). He served in various duties until 1987 when he returned to a non- pay billet for two years at Floyd Bennett Field.
---
Awards & Decorations
Meritorious Unit Commendation Ribbon

National Defense Service Medal
---