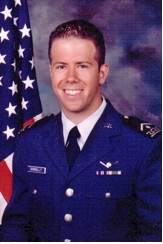 Captain Peter Donnelly was mesmerized by flight from an early age. The Garden City, NY, native began flying at age 12. He flew light aircraft at Farmingdale and Islip MacArthur airports, soloing on his 16th birthday and earning his pilot's license at age 17.
He began volunteering at the Cradle of Aviation Museum in 1993. Captain Donnelly initially gave tours at the Museum, but as time went on, he assisted in everything from aircraft restoration to helping prepare for the construction of the new Museum.
After graduating from Garden City High School in 1997, Captain Donnelly attended the United States Air Force Academy in Colorado Springs, Colorado. While a full-time military student, he was also a flight instructor for the Academy's soaring program, training nearly 250 cadets to fly gliders. He graduated in 2001 with a Bachelor's of Science in Management and a commission as 2nd Lieutenant in the United States Air Force.
Captain Donnelly then attended Undergraduate Pilot Training at Columbus AFB, Mississippi, graduating number one in his flight class after over a year of training in the T-37 Tweet and T-1A Jay Hawk jets. He was then transferred to McGuire AFB, NJ, where he currently flies the KC-10 Extender. He was a copilot for the first two and a half years, during which he flew numerous combat missions, conducting air refueling over Iraq and Afghanistan. He has also flown numerous missions over the skies of New York City and Washington, DC, in support of Operation Noble Eagle.
Captain Donnelly has flown to all reaches of the globe in the Extender, transporting cargo and troops, refueling American as well as coalition aircraft, transporting distinguished visitors, and undertaking a variety of other highly important missions. He was upgraded to Aircraft Commander in the KC-10 in early 2006, and will continue to fly the Extender well into the future.
Captain Donnelly's grandfather, Captain Joseph P. Donnelly, retired, served over 20 years in the Army Air Corps, and was stationed at Mitchel Field during World War II. His father, Raymond P. Donnelly, is currently a volunteer at the Cradle of Aviation Museum. Throughout Captain Donnelly's time at the Academy, in pilot training, and on active duty flying the KC-10, he has tried to get back to the Cradle of Aviation Museum whenever time permits.
---
Awards & Decorations
---