Greek-born Lt. Colonel C. Kyrie Kallas has dedicated his life to serving in the U.S. Air Force with nearly 30 years of active and reserve duty. As Master Navigator, he has some 12,000 flying hours, including 550 combat hours.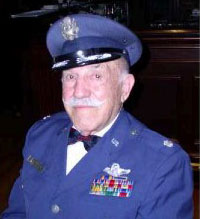 Col. Kallas emigrated to the United States as a boy in 1921, and attended schools in Brooklyn, NY. When the U. S. entered World War II, he volunteered for the Aviation Cadet program and began Navigator training in March, 1942. His coursework began in Selman Field, AL, and ended in Coral Gables, FL (where the training was conducted by Pan American Airways). He received his Navigator wings in March, 1943 and was then sent to Ft. Wayne, IN, where he calibrated navigational instruments. Then it was on to Alliance, NE, for Combat Crew Training in the C-47.
In October, 1944, Col. Kallas was transferred to a Troop Carrier Group (C-47) of the 9th AF in Barksdon Heath, UK, where he saw action in many battles in western Europe. In May, 1945, he was reassigned to the Air Transport Command which took him to north Africa, Brazil, and California while ferrying troops in C-54s. He was released from active duty in November, 1945.
Col. Kallas then joined the Air Force Reserve at Floyd Bennett Field, NY (C-47). He continued training until he was recalled to active duty with the Strategic Air Command in 1950. He was assigned to MacDill AFB, FL, where he flew B-17s, B-47s and KC-97s until his release in 1952. From 1952 to 1966, he was an airline navigator with Seaboard World, Flying Tiger and Capital Airlines. During these years, Col. Kallas trained with the 9212th Air Reserve Sq. ('52-'63) and then with the Air Force Reserve unit (C-119) at Willow Grove NAS, PA ('63-'65).
In 1965, Col. Kallas joined the Military Airlift Command wing at Dover AFB, DE, where he navigated the C-141 on worldwide airlift missions — including many to Vietnam — until his retirement in 1971.
Lt. Colonel Kallas earned his B.B.A. and M.B.A. at City College of N Y in 1954 and 1956, respectively, and taught at Brooklyn Technical H. S. ('71-'81) and Manhattan Community College ('81-'83). He is the founder and serves as the President of Waldorf Realty Co., Inc. (1963 to the present).
---
Awards & Decorations
Meritorious Service Medal

Air Medal

European-African-Middle East Campaign Medal

World War II Victory Medal

National Defense Service Medal

Armed Forces Reserve Medal

Korean Service Medal

Vietnam Service Medal

Republic of Vietnam Campaign Medal

Good Conduct Medal

Conspicuous Service Medal
---